HS2 rail plan: Farmers 'left up in the air' by government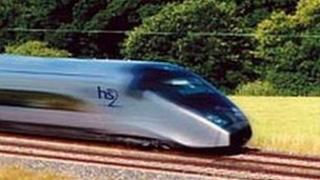 Farmers who will be affected by the HS2 rail line say they have not had enough information from the government.
The National Farmers Union (NFU) organised a meeting to brief farmers about compensation negotiations.
Gordon Davies, a farmer from Middleton, Staffordshire, said: "It seems more important to have the rail line than the food from the farms."
The proposed line would cut in half the farm his family have been working for 100 years.
Robert Lockhart, who farms near Drayton Bassett in Staffordshire, said he is "very much against" the planned line.
He wants to hand his farm down to his 17-year-old son and said he feels he has been left "up in the air" over the question of compensation.
'Stick to pledge'
The NFU told the 60 farmers at the meeting that the government must learn from "the mistakes of HS1", the high speed line built to the channel tunnel.
The union and the Country Land and Business Association have already negotiated a £1,000 payment to landowners for initial survey work for HS2.
The NFU said the government must "stick to its pledge" to offer assistance and support.
The money for the £1,000 compensation payment will come from HS2 Ltd, the government-owned company running the project.
It will be split between the tenant and landowner where the land is let.
Alison Munro, chief executive of HS2 Ltd said: "We hope to develop close working partnerships with those affected by the new line and [the compensation payment] is an important step in that direction."
The government approved the £33bn HS2 scheme, which will cut journey times from London to Birmingham, Manchester and Leeds, last month.
Phase one of HS2, between London and Birmingham, is expected to be running by 2026, with an extension to northern England later.