Russian Gateway holiday customers await compensation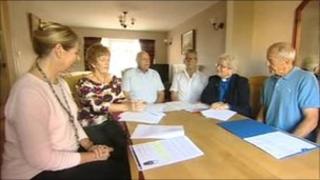 Customers who had Russian holidays cancelled at short notice last year say they have received no compensation after more than five months.
A group from Gloucestershire and a couple from North Wales claim Leamington Spa-based Russian Gateway owes them more than £17,000.
Two people have been paid but 11 others say they have received nothing since their trip to Moscow was called off.
The firm said some had been compensated but the situation was "complicated".
Warwickshire Trading Standards said an investigation was ongoing.
Spokesman Simon Cripwell said he advised anyone who had lost money to the company to contact Consumer Direct.
The Reverend Canon Marilyn Sharland from Gloucester said she was still owed £1,760 for the cancellation of a cruise to Moscow from St Petersburg.
'Horribly disappointed'
She was among a group of 11 due to fly out last September. Only two members of the party have been given their money back.
"We were really looking forward to the holiday," she said.
"I'm horribly disappointed that the company is still trading. I feel very let down, it seems to me they've not told the truth."
Graham Holt, from Deeside in North Wales, has not received any money since a cruise to Moscow for him and his wife was cancelled in September.
"We're pensioners, £3,250 is a lot of money to us. We want our money back," he said.
Russian Gateway director Alan Steele said a few people had been refunded but he was "waiting to refund others".
He said he would prefer not to pay out compensation from money received from other customers for future bookings.
Trading standards was initially contacted last September after it was discovered the operator's Atol number had expired and its Abta number was registered to another company.
An Abta spokesman said they had been in touch with Mr Steele, who said he would remove any reference to Abta from future correspondence.