Farmers' hopes for HS2 'fair deal'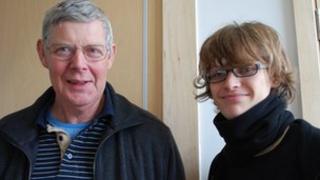 "If I wake up on my farm in 15 years' time and I see a train flying past every seven minutes, I don't want to feel I've been ripped off," said Robert Lockhart, whose family has been farming on land on the Staffordshire/Warwickshire border since 1938.
Now, he faces the proposed HS2 high-speed rail line cutting him off from about 20 acres of the farm - and also taking over a total of 10 acres of the land where he lives and works.
Three generations before him, Mr Lockhart's family moved to the land - between Drayton Bassett and Middleton - after their farm in Castle Bromwich was taken off them to build the Spitfire factory.
Now, history is almost repeating itself.
The 58-year-old farmer who grows cereal and potato crops, said he just wanted to get a "fair deal" if the rail line was to go ahead.
Mr Lockhart and his 17-year-old son Andrew were among about 60 farmers who gathered earlier at a meeting organised by the National Farmers Union (NFU) in Stoneleigh, Warwickshire.
All of the landowners said they wanted to know what the impact of the rail line would be on them - and what compensation might be available.
Mr Lockhart said that he would have considered moving to a bigger farm, but now feels he is stuck where is.
He continued: "In our area in particular, around Lichfield, we've had the Birmingham northern relief road, the A5... We've got a bitter experience of compulsory purchase and not being treated very favourably, so we're very much against it."
"Originally we were also one of the prospective sites for the marshalling yard, which would have taken most of my farm and most of my neighbours', but we've been spared that."
One of the main points of the meeting, led by Harry Johnson, chair of the NFU in Warwickshire, was to explain the process and development of HS2, and that "lessons can be learned" from the difficulties of HS1.
They also spoke of the "fear of the unknown" and what problems could arise when contractors begin working on land.
"It affects farmers so much more than others," said Tom Bradley, the former NFU chairman for central Warwickshire.
"You can have the line through your farm, it can cut you in half, it can leave a part the other side of the railway, which is totally unfarmable."
The government approved the £33bn HS2 scheme, which will cut journey times from London to Birmingham, Manchester and Leeds, last month.
Phase one of HS2, between London and Birmingham, is expected to be running by 2026, with an extension to northern England later.
Ministers - and the government-owned HS2 Ltd - have previously committed themselves to offering compensation to whoever needs it.
'Shame for our land'
John Mercer, NFU regional director, added "We are working to ensure the government sticks to its pledge to do all it can to offer assistance and support to those affected by the route."
Mr Lockhart said he was also concerned about the impact that HS2 would have on future generations of his farming family and how access around his land will be affected.
Andrew has already begun working on the farm and is expected to eventually take over the conservation and agricultural section.
"It's a shame for our land and other people's land because it's going through a country where an economic depression is happening," Andrew said.
"We just don't have the money to fund this sort of movement in technology for England compared to the HS2 rail links in France and Japan, for example."
His father said he hoped the compensation package would help to replace land.
"It may not be that long before they actually secure the line, meaning they will serve papers on it," Mr Lockhart said.
"They may actually fence it a long time before the train is running and we may lose it earlier than we think."