Dozens of crashes reported on icy roads in East Anglia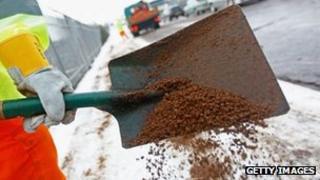 Police are warning motorists of "hazardous" driving conditions after freezing rain and snow led to dozens of crashes across East Anglia.
Essex Police said it had dealt with about 50 minor crashes since midnight on Sunday, with 20 reported in Suffolk and up to 30 in Cambridgeshire.
Paramedics were called to more than 50 collisions across Norfolk, Suffolk, Essex and Cambridgeshire on Saturday.
Forecasters said temperatures dropped to -12.7C (9F) in Cavendish, Suffolk.
Gritting lorries were out across the region but there were reports of black ice on many minor routes.
In Suffolk, police said officers had dealt with about 20 "weather-related" crashes since midnight on Sunday and were warning motorists to stay off the roads.
Freezing rain
Cambridgeshire police said the A14 was closed in both directions following a crash between Milton and Stow-cum-Quy in the early hours of Sunday in which one person died.
Police in Norfolk said there had been about 10 minor crashes in the county since midnight.
An Essex Police spokeswoman said: "Weather conditions are making driving hazardous and we are experiencing a high number of road crashes across the county."
Ambulance crews dealt with 163 collisions between 16:00 on Friday and 13:30 GMT on Sunday, which saw 40 people taken to hospital.
The number of collisions was up by 50% compared to a weekend two weeks ago, an East of England Ambulance Service spokeswoman said.
"Crews and volunteers have worked extremely hard this weekend dealing with a big rise in calls, particularly to collisions," said the spokeswoman.
"The cold snap appears to be easing but we would still advise drivers to be cautious on the roads and drive with extra care as icy patches still are an issue."
Steve Western, a forecaster at Weatherquest, based at the University of East Anglia, said: "We've had a lot of freezing rain hitting roads that are already sub-zero in temperature. This led to a lot of black ice."
He said conditions would improve during Sunday but would be hazardous on Sunday night and into Monday morning.
Mr Western said a mixture of rain, sleet and snow had fallen across the region, although there were no reports of significant amounts of settling snow.