DVLA staff protest over plans to close UK offices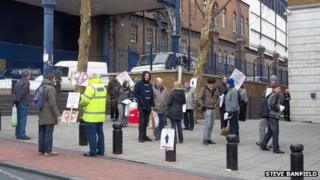 Transport staff have held protests in England and Wales over plans to close dozens of Driver and Vehicle Licensing Agency (DVLA) offices.
Members of the Public and Commercial Services union (PCS) staged demonstrations over proposals to close local and enforcement offices.
The closures would end face-to-face services and put 1,200 jobs at risk, said the union.
A spokesman for the DVLA said the agency had to move with the times.
Simon Tse, the DVLA's chief executive, said: "The DVLA has been serving motorists for over 40 years in one form or another. But times change and customers' needs change.
Public consultation
"That is why it's essential that we move with the times and make the best use of our services and experience to make sure we give the motor industry and the general public a service that is fit for the 21st Century, allows them to carry out their business in a way that suits them and offers the best value for money for the taxpayer."
He added no decisions would be made until public consultation ended on 20 March and all responses had been considered.
The DVLA announced UK-wide closure proposals in December in a bid to save £28m.
Protests took place outside DVLA offices in Shrewsbury, Nottingham, Peterborough, Northampton, Brighton, Bournemouth, Oxford, Portsmouth, Stoke Gifford, Leeds, Sheffield and Preston between 12.30 and 13.30 GMT.
Further protests were also planned in Borehamwood, Maidstone, Sidcup, Theale, Wimbledon, Beverley, Birmingham, Worcester and outside the DVLA's local office in Swansea, where the agency also has its headquarters.
The union said the government intended to close 39 local and enforcement offices with 340 jobs to go in the South East.
PCS General Secretary Mark Serwotka said: "We will not sit back and watch while jobs and highly-prized public services are stripped away.
"Our local economies are crying out for support and investment, not more cuts.
"The closure plans are not based on what the people who use these services say they want and need, but on a politically motivated desire to unpick our public services."
In Brighton the union said up to 23 jobs could go.
Steve Banfield, PCS rep for the DVLA in Brighton, said: "It is a protest because we don't think the message has gone out clearly enough from the DVLA in Swansea that these closures are actually going to happen.
"There are a lot of our stakeholders who are unaware that the closures are pipelined for as early as next year."
'Complex things'
He added the cuts would also affect people living locally.
He said: "It's a public service basically, so once it's gone, it's gone forever. It's a face-to-face service which forty thousand people chose to use last year. That is the amount of customers we had through the door.
"We do a lot of complex things to do with vehicle taxation and drivers licences. If you take us away there is no-one left for a lot of people to go to sort out their issues with tax and driving licences."
At some offices staff were asked to take half an hour of their lunch break to support the protest.
Berewyn Long, PCS organiser for the south, said: "In Bournemouth we had about 20 staff or so protest during their lunch break.
"We had a local councillor come down to speak to us and support us.
"We spoke to people from the motor trade who were at the office as well as members of the public and they were all very supportive."
In Chelmsford staff chose not to join in the protest.
David Sherman, PCS rep at DVLA Chelmsford, said: "By withdrawing the public facing service you make things more and more difficult for the public and the public are paying for this service, whether they get it or not. Your car tax won't come down if they close us down."
"Because of the gradual reduction in staff levels over many years we don't actually have the resource in the office to bring people out to make an effective protest and still maintain the level of service to the public, which obviously is what we're trying to protect. So we don't want to disrupt that in the short term by causing problems today."