Councils ask Treasury for Northern Hub commitment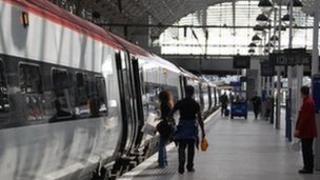 Leaders of the five largest cities in the north of England have written to the Treasury asking for a commitment to funding the Northern Hub rail project.
Council leaders in Leeds, Manchester, Liverpool, Newcastle and Sheffield said the £560m scheme would generate £4bn across the North.
Sir Richard Leese, of Manchester City Council, said all cities would benefit from the boost to jobs and the economy.
The decision on funding is due to be made by the Treasury in the summer.
If it is given the go-ahead, work could begin on the hub in April 2014.
On completion, the scheme would see 700 more trains run every day across the region, with four fast trains every hour between Liverpool and Manchester and six between Manchester and Leeds.
Mr Leese said there was "no other infrastructure project in the country that will give the same benefit for the money spent."
He said the joint request, signed by all five council leaders, had been made as it was not "a situation where we're competing for funding with other cities".
"We'll all benefit from the boost to jobs and the economy that the hub will provide," he said.
"Now is a crucial time and we're getting very close to when the Government have to make a decision about whether to fund the improvements or not.
"If Greater Manchester and the wider north are to reach their full economic potential, we need more capacity on our railways and faster, more frequent rail links between our cities, and that's what the Northern Hub can deliver."
A spokeswoman for the Treasury said the department had yet to receive the letter so were unable to comment on it.