LS Lowry painting of South Shields up for sale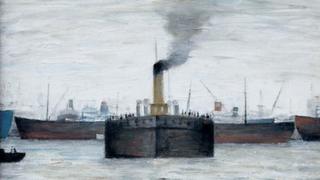 An oil painting of South Shields by LS Lowry is back on the market for £350,000.
The Ferry was produced by Lowry in 1967 after a visit to Sunderland and the surrounding area in 1960.
The painting was first owned by the artist's friend of 50 years, Reverend Geoffrey Bennett, a parson at Rockcliffe in Cumbria.
It is now up for sale at Clark Art gallery in Hale, Cheshire, until the mid-March.
After Lowry's visit in 1960, the painting went on display at an art gallery in Sunderland in an exhibition of his work.
Bill Clark, owner of the Cheshire gallery, bought the painting two years ago for his personal collection, but has now decided to put it up for sale.
He said: "Lowry was entranced by the North East and particularly by South Shields.
"The Ferry is one of the stand-out pieces he produced of the area in the 1960s. There's already been lots of interest in The Ferry - it has a lot of historical importance for the region."
The world record for the artist's work is £5,641,250, paid at Christie's last year for The Football Match, a 1949 oil painting.