Kingsbridge volunteer medical responders concerned over cuts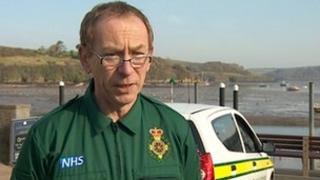 Medical responders in part of Devon have said they are concerned that more will be expected of them when cuts to the ambulance service are made.
The volunteers in the Kingsbridge area provide medical care before paramedics arrive at a scene.
Cost-cutting plans mean the number of ambulances will be reduced from three to two in the area.
South Western Ambulance Trust (SWAT) said a paramedic car would be used in lieu of a third ambulance.
It said response times could improve due to the change.
'You take potluck'
First responders are often used in rural areas where ambulances may not be in the near vicinity.
Liz Hore, who was helped during an asthma attack, said: "It was very, very frightening. It's really reassuring to know that someone's coming to you quite quickly."
Her husband Tim trained as one of three first responders in Kingsbridge following the incident.
But he said with a reduction in ambulances, the amount of time it takes for an ambulance to get to a scene could increase.
"Since I've been doing first responder it can be anything from 10 minutes to 45 minutes before the ambulance can get here," he said.
"We do have ambulances in Kingsbridge, but if they're both out you take pot luck as to where they come from."
From April the three ambulances will be reduced to two and a paramedic response car will be available for 10 hours a day.
Dr Andy Smith, Medical Director of SWAT said: "By having a car there it's less likely to be out of the area transporting people to and from hospital, it's more likely that it will remain in that area and respond to emergencies.
"I can absolutely guarantee that they will get a quality ambulance service, and my expectation is, with the change, that the response times in Kingsbridge, because of the paramedic car being based there, are likely to improve."