Transport mix-up blamed for missed hospital appointment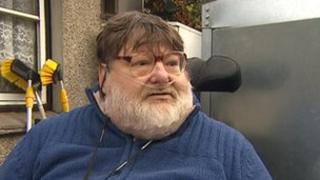 A disabled man missed a hospital appointment after a 14-month wait because a private ambulance was unable to transport him without a seatbelt.
Stuart Raddy, 64, whose condition makes him exempt from wearing a seatbelt, was due at Royal Cornwall Hospital, Truro.
The hospital asked Plymouth-based Crusader Ambulance Service if it could transport the patient, but insurance issues meant it was unable to.
Mr Raddy said he was upset even though another appointment is being arranged.
Mr Raddy, from Saltash, who has a hernia, told BBC News he believed the hospital's transport department was aware of his requirements, as he had been transported without a seatbelt on previous visits.
'Don't risk safety'
The hospital, however, said it was unaware of the seatbelt situation until the evening before Mr Raddy's appointment.
A spokesperson for the Royal Cornwall Hospitals Trust (RCHT) said its transport department had done everything it could to provide appropriate transport for Mr Raddy.
A statement said: "Unfortunately due to the short notice given on the seatbelt, the transport company on this occasion was not able to provide the safe service they would want for the patient.
"The therapy department will make contact with the patient to make a new appointment within the month and will ensure all requirements are met."
A spokesman from Crusader Ambulance Service said the hospital's booking form had not highlighted the seatbelt difficulties.
By the time the patient assessment was carried out, it was "too late" to contact its insurers.
"I've never come across a situation like this in 10 years of trading," the spokesman said.
He was still waiting to hear from his insurers, but added: "We don't risk patient or staff safety."