Norfolk leads campaign for 'fair fares' in rural areas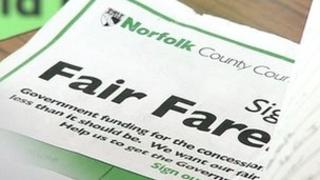 A protest to try to save free bus travel for the elderly and disabled in Norfolk has been to Downing Street.
Twenty four thousand people have signed to support the Fair Fares Campaign.
Government cuts mean there's a £4.5 million shortfall in funding for the service.
Great Yarmouth MP, Brandon Lewis argues: "We want a fairer balance. At the moment it's overly weighted towards the cities. The case we want to put is to get better funding for rural bus fares.
"Norfolk is losing out on £5 million, this year and next year. We want a fairer spread on funding, not necessarily any more, just better spread.
"In rural areas we have people struggling to get to work - young people and elderly people who need to get to services they want - and we must make sure that the rural bus service lifeline remains for them in the future."
Campaigning councils
Mr Lewis was joined by fellow Conservatives, George Freeman, MP for Mid Norfolk, Richard Bacon for South Norfolk and Keith Simpson, MP for Broadland.
Later, they met with Transport Minister Norman Baker, who has responsibility for the concessionary travel scheme, to request a special government grant towards its unfunded costs.
"What we want the minister to do is to get the funding formula restructured," says Mr Lewis.
Norfolk County Council launched a petition in September because of the £4.5m shortfall in government funding for the concessionary travel scheme in 2011-12.
"The county council have done really well at explaining the case and thousands of people have backed the campaign. We have over 20,000 signatures now."
And crucially, since then, councils across the country - from Cumbria to Devon - have joined the campaign, which is gaining ground.
The petition is also supported by John Hart, leader of Devon County Council.