London 2012: Shakespeare influences Paralympics opening ceremony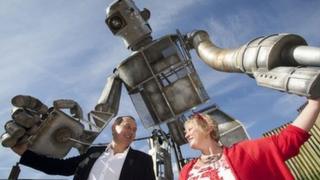 The joint artistic director for the Paralympic Games opening ceremony has described her responsibilities as "amazing and terrifying".
Jenny Sealey has been working in Truro on a production at the Hall for Cornwall.
She said the opening ceremony would be spectacular.
Miss Sealey said the creative minds behind the 2012 Olympic and Paralympic opening ceremonies had been inspired by Shakespeare's The Tempest.
'Extraordinary challenge'
She is currently directing a show at the Hall for Cornwall called Reasons to be Cheerful, based on the life of singer Ian Dury.
Speaking of her Paralympic work, Miss Sealey said: "We have created a whole narrative which we hope will have universal appeal.
"It is the most extraordinary challenge, amazing and terrifying. We are just finalising our design.
"I have done a sign-off of costumes. When I go back to London we will be doing mass auditions for thousands of volunteers."
Miss Sealey admitted she had started "to shake" when she was told she would be artistic director alongside Bradley Hemmings, of the Greenwich and Docklands festival.
She said: "I had to go through a very rigorous interview process. The scale of this is way beyond anything Bradley and I have ever done."
The organisers of the Olympic and Paralympic ceremonies have looked to the UK's literary past for ideas.
Miss Sealey said: "All of us went to the Tempest for inspiration. It is also my favourite play. There's a theme of the Tempest going through all the ceremonies, which was a coincidence.
"I think Shakespeare would have been very proud."
Miss Sealey said she hoped the opening ceremony would send an important message around the world.
"We have the same dreams, aspirations, skill and determination as anybody else and that needs to be recognised."
The Paralympics will run from 29 August until 9 September 2012