NHS services in the West Midlands 'must save £1.8bn'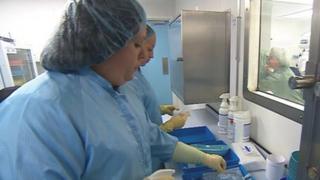 The NHS in the West Midlands region is looking at ways of saving £1.8bn over the next three years.
NHS services are facing the demands of an increasing elderly population and new technologies and drugs.
NHS West Midlands says demand for services "will outstrip the resources we have available if we don't change the way we work".
Plans include "significantly more" investment into prevention and early intervention services, it said.
About 100,000 people a day are treated by the NHS in the region and demand is expected to increase further.
NHS West Midlands, the region's Strategic Health Authority, sets out its expected challenges and savings plans in a new document.
NHS funding and expenditure in the region has seen a "period of unprecedented growth", growing by about 6% a year over inflation over the last decade, it said.
The authority said it was clear there would be no significant financial input into the NHS while the national deficit was reduced.
That meant it had to change ways of working to prevent "a gap" between demand and what it could deliver.
A spokeswoman for NHS West Midlands said savings were already being made.
"As a health community, the West Midlands has identified nearly £558m of efficiency savings in this financial year and is currently on track to deliver these," she said.
David Laughton, Chief Executive of Royal Wolverhampton Hospitals NHS Trust, said he had seen costs rise.
"I have certainly noticed in the last four or five years how technology and advancement is increasing and therefore the cost is increasing.
"I think we have got to be able to find ways of saving money and to be able to keep meeting that demand."
The funding changes come as the government pushes ahead with controversial NHS change which it says "is essential so the NHS can make the efficiency savings it needs".
Under the plans, GPs will control budgets and commission and purchase health care.
Charles Zuckerman, secretary of Birmingham Local Medical Committee (BLMC) which represents GPs, is against the changes.
Dr Zuckerman said: "The bill is designed to save money. To be bottom up as opposed to top down to decrease bureaucracy.
"I think it will have exactly the opposite affect. I think it will increase bureaucracy and I think virtually the whole NHS could be strangled by red tape."