Vaccine for midge-carried animal virus two years away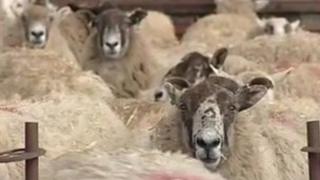 The launch of a vaccine to combat a new animal disease spreading across the east of England is two years away, according to a Cambridge scientist.
Farms in Norfolk, Suffolk, Essex and Herts affected by Schmallenberg Virus are seeing up to 4% of animals in some herds and flocks suffer.
The virus, named after the German town where it was first seen, causes the births of deformed calves and lambs.
Dr Dan Tucker, of Cambridge University, is trying to find out how it spreads.
The virus, said to be like human chicken pox, affects sheep, cattle, goats and deer, and causing stillbirths and birth defects.
It is spread by midges and has moved into the UK from the Continent. In late January it was seen for the first time on farms in Norfolk, Suffolk, and East Sussex. Within days outbreaks had spread into Essex, Kent and Hertfordshire.
Early pregnancy 'critical'
Dr Tucker is leading an inquiry into the condition and is looking for ways in which it is being spread.
He said development of a vaccine could be up to two years away.
"It has been on the Continent for some time but a plume of midges arrived in England with the infection in October last year.
"Sheep and cows pregnant at the time are now coming to term and the defects are being discovered.
"I advise farmers to try and keep midges away from animals.
"An outbreak of a similar virus in Australia and Japan showed that animals developed immunity after the first attack but the critical time is in early pregnancy."
Defra said 74 farms had so far reported the disease and new outbreaks had been reported in west Sussex, Surrey, Hampshire, Cornwall and Wiltshire.
This was likely to increase as farms were now well into the lambing season.
They advised farmers to take the standard biosecurity measures necessary for an endemic disease.
Clive Sleightholme, a shepherd from Royston in Hertfordshire, said lambs had been born with twisted necks and fused joints.
"I've lost 75 lambs this year and that's more than £7,000 out of my income," he said.