Leeds buses get computer system for green lights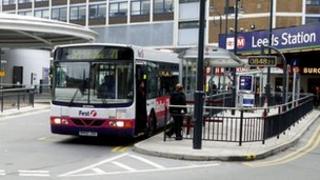 Bus journeys in parts of Yorkshire are set to be speeded up by onboard technology that triggers more green lights at busy junctions.
The system, originally developed for the Leeds Supertram, uses existing GPS satellite technology to detect when a bus is approaching traffic lights.
Now the technology is being installed at another 66 traffic lights in Leeds.
Engineers are also introducing the system at 82 sites around Bradford and Halifax, and in Sheffield.
The system was developed by engineers at Leeds City Council for the unsuccessful Supertram scheme.
It has been extensively tested on routes in Leeds including the A660 and the bus route between Whinmoor and Pudsey.
West Yorkshire Fire Service is also hoping to use the system to provide fire appliances from three Leeds stations with so-called "green waves" through busy junctions.
Wakefield and Kirklees councils are introducing similar bus priority schemes.
The Leeds system uses software developed for the Metro "yournextbus" scheme that alerts passengers at bus stops to the arrival of the next service.
Buses are equipped with an onboard computer, GPS navigation system and a radio to report their position to a central computer.
The information is fed to about 1,000 electronic displays at bus stops around West Yorkshire.
Councillor James Lewis, Metro's chairman, said using existing equipment saved installing "expensive detectors at busy junctions".
A council spokeswoman said the demands on the system were "quite complicated" at traffic junctions and it had taken "some time" to develop the software.