North West NHS trusts publish patient and staff views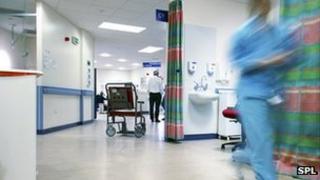 Hospitals in the north-west of England have begun a scheme to offer up-to-date information about patient and staff views on care at the institutions.
NHS trusts in Greater Manchester, Merseyside and Lancashire will take part in the North West Transparency Pilot.
It will publish scorecards showing the number of falls and pressure ulcers suffered by the hospital's patients.
An NHS spokeswoman said it showed a "new level of openness and honesty".
The information, which will be published on a monthly basis, will include five pointers towards the standard of patient care within the hospitals.
They are the number of patient falls, the number of pressure ulcers suffered within 72 hours of admission, the actions taken to prevent falls and ulcers, and patient and staff experiences of care.
The falls and ulcers are graded in terms of severity, specifying a difference between moderate and severe harm.
The data will also include staff views such as whether they would be happy for family and friends to be treated at the hospital they work at.
Jane Cummings, the chief nurse for NHS North of England, said the scorecards would be very useful.
"By recording and publishing that information, it means that we are very transparent and open about it," she said.
"We are able to then look at the reasons why the patients may have fallen or developed a pressure ulcer and do something about it.
"Really importantly, we can tell the public what we've done and why we've done it."
The trusts involved in the pilot are Aintree University Hospitals NHS Foundation Trust, Blackpool Teaching Hospitals NHS Foundation Trust, Bolton NHS Foundation Trust, East Lancashire Hospitals NHS Trust, Liverpool Heart and Chest NHS Foundation Trust, Salford Royal NHS Foundation Trust, St Helens and Knowsley NHS Trust and Wrightington, Wigan and Leigh NHS Foundation Trust.
The scheme may be rolled out across England if the pilot is successful.