First TransPennine Express and London Midland announce extra seats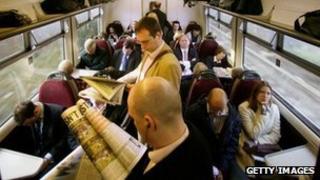 Thousands of extra seats are to be introduced on trains into several major UK cities next year.
Operators First TransPennine Express and London Midland will each get 40 extra carriages, in an attempt to cut crowding and stimulate economies.
Some 12,000 seats will be added to trains into Leeds, Sheffield, London, Birmingham, Manchester, Liverpool, Newcastle, Glasgow and Edinburgh.
London Midland is also raising its maximum speeds from 100 mph to 110 mph.
Passenger concerns
The move is part of wider plans by the government to introduce 2,700 new carriages on to the UK's rail network by 2019.
Transport Minister Theresa Villiers said: "This is great news for passengers who will get faster, longer trains and more seats.
"Increasing capacity on some of the busiest routes in the country is a key part of the major programme of rail capacity expansion we have promised to deliver.
"It is a vital way of responding to passenger concerns about crowding and providing an important stimulus to economic growth."
The new carriages, which will be introduced in December 2013, will be used to lengthen existing trains.
London Midland expects to be able to fit more services into its timetable after increasing the maximum speed of its fleet in December this year.