Drain covers marked in Birmingham metal theft crackdown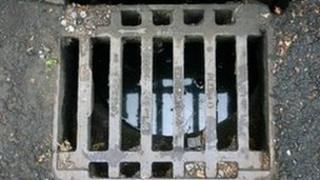 Drain covers in Birmingham are to be forensically tagged after nearly 950 were stolen in less than two years.
Gully covers - the grates over drains - will be marked with forensic grease, which is visible under ultraviolet light, under the scheme run by the city council and contractor Amey.
John Sunderland, from Amey, said: "Stolen gully covers are a major threat to the safety of all road users."
Police said metal theft was having a "significant impact" in the region.
Amey, which maintains the city's roads, said 944 gully covers had been stolen between June 2010, when it took over the contract, and mid-February.
As part of the campaign, signs will be displayed to warn where covers have been forensically tagged.
The grease marks the drains and will leave a mark on anyone who touches them.
The covers are worth only about £8 to a thief but can cost hundreds of pounds to replace, say those behind the scheme.
Across the West Midlands and nationally, efforts are being made to tackle the growing problem of metal theft, which has seen railways, churches, schools and homes targeted.
Crucifixes stolen
Forensic markings are already used by forces, particularly by British Transport Police.
Meanwhile, West Midlands Police said dedicated officers were working specifically to tackle metal theft.
Det Ch Insp Angie Whitaker said: "We have seen all kinds of metal items stolen, from plaques to lead from windows, but one item that continues to create problems for authorities and residents alike is the theft of gully covers.
"No metal recycler should be accepting this kind of item and anyone found to be illegally in possession of gully covers will be prosecuted."
In one of the latest incidents, candlesticks, crucifixes and other items valued at more than £5,000 were taken from a church in Walsall.
Police said St Joseph's RC Church suffered "considerable damage" during the incident at the weekend and want to hear from anyone with information.
Last month, Home Secretary Theresa May said cash payments for scrap metal would be outlawed and fines "significantly increased" to tackle metal theft.