Inquest on Kent coast fisherman's death opens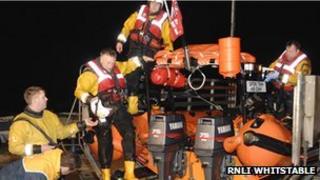 An inquest into the death of a young fisherman whose body was found off the north Kent coast has been opened and adjourned in Maidstone.
The body of Wade Berryman was recovered from the water off Herne Bay by Whitstable lifeboat's crew on Saturday.
He is thought to have dived into the sea to try to recover his Brixham-registered fishing boat.
Mr Berryman, 21, whose parents live in Salisbury, Wilts, was confirmed dead at the quayside at Sheerness Harbour.
The boat's skipper was rescued by helicopter from Red Sands Towers, an army fort in the Thames Estuary.
According to the Thames Coastguard, Mr Berryman had dived in to try to retrieve the Ramsgate-based vessel after it began drifting.