Cab drivers deserve to be safe says Bedford MP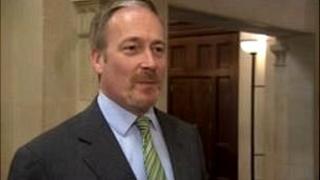 The dangers of mini cab driving took centre stage at Westminster this week as the MP for Bedford called for more to be done to make them feel safer.
Richard Fuller told the Commons: "Too often private hire and taxi drivers are given second class status in our public transport system when it comes to their safety."
He had called the debate following the death of a mini cab driver in Bedford.
Further research revealed that there'd been another assault on a driver the month before, while a Freedom of Information request to Bedfordshire Police revealed that there'd been 93 assaults on drivers in the county in the previous year.
Driver protection
"Private hire and taxi drivers are a vital part of our public transport system," said Mr Fuller.
"When it comes to their physical safety and the safety of their property, they deserve to be afforded the same protection as bus drivers, airline staff and railway employees, but they are not."
He said that in many towns private hire vehicles were the only way for people to get home at night but mini cab drivers were often treated with a lack of respect.
"Drivers routinely have to deal with people who can be abusive and may be under the influence of alcohol, drugs or both.
"A journey may end with someone vomiting in the vehicle or running off without paying."
He called for financial help for drivers so that they could afford CCTV and security screens.
He didn't expect the government to provide it but suggested that the Proceeds from Crime Fund could be used.
Security improvements
The Transport Minister, Norman Baker, tried to put the issue into some perspective, pointing out that there were 700 million taxi and mini cab journeys every year and, in an average year, three taxi drivers are killed.
"But that of course, is of no comfort to those who are subject to unwarranted and unprovoked attacks," he said.
"It is intolerable that they should be subject to attacks such as he described.
"The lack of respect to which he referred is clearly an important factor to be taken into account."
Mr Baker was wary about encouraging more use of CCTV but he liked the idea of using money from the Proceeds of Crime Fund to finance security improvements and said he'd write to the Home Office about it.
He also pointed out that drivers could take part in conflict avoidance training which could make them safer.
The bottom line is that there is no easy solution to protecting mini cab drivers. It will always be a risky job.
But Mr Fuller will keep on fighting to do what he can to try to make them feel safer.