Men sentenced over stolen van operation in Kent and London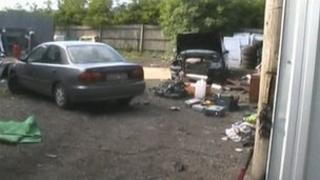 Three men have been jailed in connection with the theft of dozens of vans across the South East.
Arunas Gambarovas, 33, Almantas Tuskevicius, 22, and Arturas Gulbinas, 23, all of Avenue Crescent, Hounslow, were linked to the theft of 26 vans.
They were found guilty of conspiracy to handle stolen goods following a trial at Maidstone Crown Court.
The men, from Lithuania, stored the vehicles at a unit in Southall, west London and another near Dartford, Kent.
Car fire
Gambarovas, described by the judge as the ringleader, was sentenced to three-and-a-half years in prison.
Tuskevicius was sentenced to two and a half years and Gulbinas was given a one-and-a-half-year sentence.
Kent Police said that over an eight-month period, 150 Mercedes Sprinter vans were reported as stolen from within a 10-mile radius of Heathrow Airport, mainly in the Hounslow area.
The 26 vehicles linked to the defendants were reported as stolen across Kent, Surrey, Thames Valley and London.
The operation was discovered when insurance investigators visited Oak View Farm in Horton Kirby, near Dartford, following a car fire. They discovered that the vehicle had been stolen.
Searching the property, police then found parts of 20 vehicles which had been reported as stolen from locations across the South East including Cambridge, Hounslow, Essex and Dartford.
Facing extradition
In May, police found Gambarovas and Gulbinas in a vehicle at the farm, together with another stolen van with false number plates.
Both vehicles were searched and devices for jamming tracking systems, car stereos and sat-navs were recovered as well as number plates from four stolen vans.
The sat-navs contained addresses where vans had been reported stolen. Some of the vans had been broken up and driven to Europe in other stolen vehicles, Kent Police said.
Gambarovas already has convictions for similar crimes in France and Germany and is wanted for other offences in Austria.
He will face extradition when he is released from prison.