Musicians in Devon and Cornwall ready for Music Nation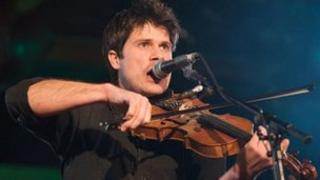 More than 200 amateur musicians from Devon and Cornwall are preparing to debut a new piece of work with the BBC Concert Orchestra.
The Devon and Cornwall Family Orchestra will perform Tim Steiner's work, Hunter Gatherer.
The concert is part of Music Nation, the first nationwide countdown to the London 2012 Festival.
On Sunday, Sound of the South West will see music groups from across the region perform from sunrise to sunset.
Composer Tim Steiner said: "We had this idea of bringing together three orchestras to make a new work.
"As part of that we looked at writing a new piece that meant something to the musicians that were involved and we hit on this idea of collecting and using folk songs that had been collected bySabine Baring-Gould."
Seth Lakeman will also perform with the BBC Concert Orchestra.
Some of his songs have been re-worked by Oscar-winning composer Anne Dudley.
BBC Radio Cornwall and BBC Radio Devon will broadcast the concert live from 19:00 GMT.