Cotswolds 'seven wonders' public vote being held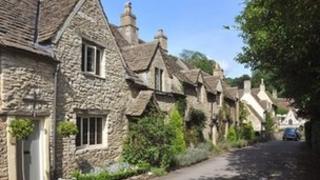 An appeal to find the most popular beauty spots in the Cotswolds has attracted more than 80 nominations.
The "Seven Wonders of the Cotswolds" list is being compiled to celebrate 45 years of the region being designated an Area of Outstanding Natural Beauty.
A public vote will now be held to determine the final seven.
Nicola Greaves, from the Cotswolds Conservation Board, said their campaign had "attracted huge interest" and they had been amazed by the response.
Nominations include Hailes Abbey in Gloucestershire, Solsbury Hill in Somerset, Castle Combe in Wiltshire and the Rollright Stones, on the Oxfordshire-Warwickshire border.
Each nomination falls into categories which include natural, geological, historical, landscape and cultural features of the Cotswolds.
Once selected, the "seven wonders" will be the focus of a new series of walks.
The Cotswolds is the second largest protected landscape in England after the Lake District National Park.
It covers 790 sq miles (2,038 sq km), stretching from Warwickshire and Worcestershire in the north, through Gloucestershire and Oxfordshire, down to Bath and Wiltshire in the south.