Jia Jin He jailed over £350m fraud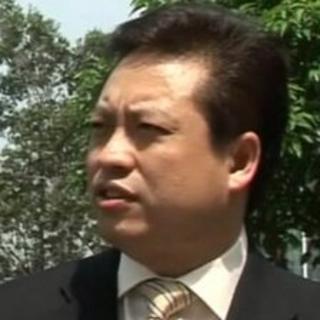 The leader of a gang from London behind a £350m fraud has been jailed.
Bristol Crown Court heard how cannabis factories in Gloucester were part of an operation which saw the cash illegally transferred to China.
Jia Jin He, 49, of Tarver Road, Kennington, admitted fraudulent trading and was jailed for eight months.
Det Insp Tony Hubbard said the sums involved from the criminal activity were "just colossal".
The mastermind behind the operation was He. In 2008 he was convicted by a court in Hong Kong on three counts of money laundering and fined £250,000.
Jailing him on Thursday at Bristol Crown Court, Judge Martin Picton told He: "You have let yourself down very badly in behaving in this way." The judge added there was "a history of previous offending which I cannot ignore".
It is estimated he made £7m from the scam.
Under the Proceeds of Crime Act 2002 the prosecution could force He to pay this money back - if not he could face an extra 10 years in prison.
The court was told the gang set up a money services bureau, the World Travel Service based in London's China Town.
It was used by Chinese migrants to send cash back home but its public face was a cover for the operation.
One man and a woman from the London area who worked for He also appeared before the court in Bristol.
'Full use'
Both had previously pleaded guilty to making misleading and deceptive statements.
Jia Jun He, 29, of Argyll Road, Woolwich, and Man Xu, 32, of Brackenfield Close, Hackney, were both ordered to carry out 100 hours of community service.
Speaking outside court, Mr Hubbard said a number of criminal activities had taken place in rural Gloucestershire including the cultivation of cannabis and the management of brothels.
"This criminal money was moved through World Travel Service accounts and then out of the country.
"In excess of £350m has moved through from criminal activity making full use of these lax money service facilities," Mr Hubbard added.
The police operation was run by officers from Zephyr, a unit set up to deal with serious and organised crime.
It involves detectives from Avon and Somerset, Devon and Cornwall, Dorset, Gloucestershire and Wiltshire police forces.
Officers work closely with HM Revenue and Customs, the UK Border Agency, Trading Standards and Soca - the Serious Organised Crime Agency.
Correction 11 October 2012: This story has been amended to make clear He was convicted of fraudulent trading and was not convicted of money laundering and drugs offences and to clarify the judge's sentencing remarks.