'No comment' over calls at time of Julian Gardner death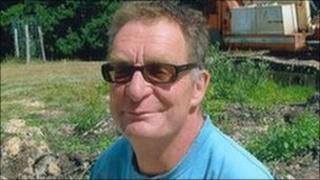 A man accused of covering up the killing of a businessman declined to explain a series of calls made to and from his phone, a court was told.
Julian Gardner was killed on 11 October 2010 when he tried to tackle burglars at his East Sussex farm, jurors heard.
Lewes Crown Court heard a number of calls were received by Terrence Dunn's mobile at the same time.
Mr Dunn denies conspiracy to pervert the course of justice. Six other men deny the same charge and manslaughter.
Mr Dunn, 57, of Tanyards Estate, Sandhurst, Kent, told police no-one else had access to his phone.
However, he offered no comment to police as to the content of the calls.
Jurors have been told Mr Gardner, 53, was crushed to death after interrupting a gang of professional burglars as they ransacked his property.
He was woken by the noise of the intruders and set off to protect his property just after midnight while armed with one of his shotguns.
'Entirely co-operative'
However, he was crushed between a Jeep Cherokee and his own Land Rover, or one of the vehicles and a water bowser.
Mr Dunn denied involvement in torching the Jeep, which was discovered in a field close to his house.
The court also head Mr Dunn was seen vigorously cleaning a green Peugeot 106 outside his home when officers were conducting inquiries in the Sandhurst area days after the killing.
PCSO Martin Hylands recalled how Mr Dunn was polishing the vehicle "like I have never seen anyone cleaning a car before" on 20 October.
After explaining the reason for the visit, he was invited into Mr Dunn's home and was offered a cup of tea in the lounge.
Mr Dunn told the officer that "he was in all night", on the night of Mr Gardner's death.
He added that Mr Dunn was "entirely co-operative" during the visit and was "very calm and collected" throughout their meeting.
The six men accused of manslaughter and conspiracy to commit burglary and pervert the course of justice are:
Terrence Bristow, 41, of Chart Road, Great Chart, Ashford
Marcus Bristow, 32, of Mock Lane, Great Chart, Ashford
Lee Delay, 23, of Whitegate Close, Tunbridge Wells
Christopher Leek, 30, of Pear Tree Close, Cranbrook
Paul Dunn, 33, of Fryth Crescent, Cranbrook
Oliver Payne, 26, of Sandhurst Road, Tunbridge Wells
The trial continues.