Plymouth MP to question unsigned £300m contract for submarine refit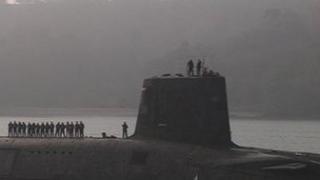 A Devon MP will be "asking questions" of the Ministry of Defence (MoD) after it emerged it has not signed a £300m contract to refit a nuclear submarine.
Alison Seabeck, MP for Plymouth Moor View, said she found it "very odd" that the contract had not been signed despite the submarine being in dock.
The MoD said it would disclose how its budget would be spent in April.
It added it was "fully committed" to the refit and would make an announcement in due course.
Shipping on the River Tamar was suspended on 2 March when HMS Vengeance travelled to Devonport Dockyard a week ahead of the scheduled refit.
Mrs Seabeck said: "It's a bit odd that the vessel's been towed in with work due to start."
'Very odd'
She added: "Given the work stream it has been booked in the dockyard for some time, so it's very odd.
"I am going to be asking some questions next week and writing to Peter Luff."
Mr Luff is the Minister for Defence Equipment, Support and Technology.
An MoD spokesman said there was no suggestion the refit would not go ahead as planned.
HMS Vengeance is the newest of the four Trident-carrying strategic missile submarines that make up the UK nuclear deterrent force.
Plymouth's Devonport Dockyard has a £5bn deal to refit the Vanguard class vessels.
They are berthed in a specially-converted dock because they are too big for the yard's other docks at 150m (492ft) long.
In comparison, Devonport Naval Base's Trafalgar class submarines are 85m (279ft) long.