Severn Trent Water 'not predicting' hosepipe bans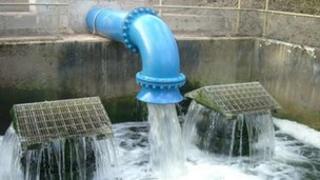 Hosepipe bans are "not predicted" in the West Midlands despite drought forecasts, Severn Trent Water has said.
Large parts of the region are at high risk of drought according to a report by the Environment Agency.
Groundwater levels are "exceptionally low" in the Trent valley, in Staffordshire, and the Severn valley in Shropshire and Worcestershire.
The River Avon has an exceptionally low flow and the Upper Severn, Wye and Usk are all below normal, the report said.
Marcus O'Kane, from Severn Trent Water, said: "Although we would never rule out the prospect of restrictions, we are confident we have the situation under control at this time."
No 'quick fix'
The company said that over the past six months it had focused on moving water supplies across its water grid from the wetter west to the drier east to balance out regional supplies.
The report said Draycote Reservoir in Warwickshire was "notably low" but was being refilled using a. It said Blithfield reservoir in Staffordshire was also below normal levels.
Low rainfall has meant that in some places grass growth has been limited, forcing farmers to bring livestock indoors and leading to high forage prices, according to the report.
The report said river flows and groundwater levels were "unlikely to recover" and would pose "significant risks" to spring planting and abstraction of water in the summer.
National Farmers Union deputy president Meurig Raymond said: "People need to realise that there is no quick fix to this issue.
"Increasing investment in on-farm water storage capacity will be vital going forward."
The union is calling on the government to reinstate the tax relief for the cost of farm reservoirs in the budget.