Tamar Bridge memorial remembering workers who died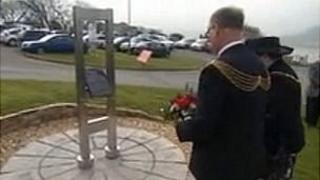 A memorial to remember seven men who died during the construction of the Tamar Bridge has been unveiled.
Their names have been inscribed on a 6ft (1.8m) stainless steel model of one of the bridge towers.
Some of the relatives attended the unveiling. The victims included a painter and a steel erector who fell during construction work.
Work on the bridge, which connects Devon and Cornwall, started in July 1959 and was completed in October 1961.
David List, general manager, said: "It came to light there was no tangible memorial to those seven lives that were lost.
"It gives any friends or relatives a focal point to remember them."
During the construction of the bridge, five people, including a 21-year-old man, died when a vessel travelling between Saltash and Plymouth sank where the bridge was being built.
Mr List said: "The second incident involved a steel erector who fell from a high location on the structure and the third was a painter who fell to his death in 1962."
The memorial stands next to the bridge office.
The Tamar Bridge was officially opened by the Queen Mother on 26 April 1962.