Don Banfield 'handcuffed' by murder accused wife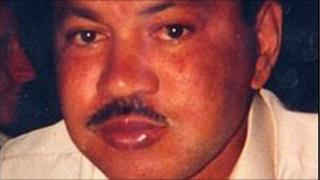 A man whose body has never been found following his disappearance in 2001, was handcuffed to a bed by his wife, the Old Bailey heard.
Jimmy Brown said Don Banfield told him he had been restrained by his wife Shirley overnight and only released by his daughter Lynette in the morning.
Mr Banfield, 63, was last seen leaving home in Harrow, London, in May 2001.
Shirley Banfield, 64, and Lynette Banfield, 40, of Ashford Road, Canterbury, Kent, deny murder.
'Kinky scene'
Mr Brown said his friend showed him a mark on his wrist.
Mr Brown told the court: "I thought 'you're having a kinky scene'.
"In general, I thought he was being paranoid about his wife and daughter."
Mr Banfield had recently retired from running the Hampstead branch of William Hill bookmakers when he went missing.
His wife and daughter are accused of murdering him in May 2001, after he signed a contract for the sale of the family home in Wealdstone in north-west London.
Plastic bag
Earlier in the trial, prosecutor Crispin Aylett QC, told the court that Mr Banfield spoke to his doctor the day before he disappeared and told him he had been restrained by his wife a fortnight earlier.
He said Mr Banfield told his doctor that he had woken in the middle of the night to find he had been handcuffed behind his back.
His wife had been trying to tie down his legs and put a plastic bag over his head, but he managed to get up.
He told a police officer the following morning that he thought he had been struck on the back of the head.
Two weeks later he said that he awoke to find his daughter squirting furniture polish into his eyes. Mrs Banfield had then confronted him with a knife.
Mr Aylett previously told the court that Mr Banfield had also feared his wife was trying to poison him with the food she cooked but he did not want police to do anything because he could not risk her knowing he had contacted officers.
The trial continues.