Scylla wreck net cleared at a cost of £10,000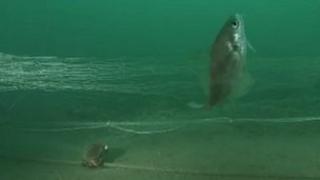 An illegal fishing net snagged around a diving attraction off the south Cornwall coast since November has been removed at a cost of £10,000.
The 100m (328ft) net was caught around the wreck of HMS Scylla off Whitsands Bay causing a loss of marine life.
The operation led by the National Marine Aquarium (NMA) was helped by the fishing community and volunteers.
Randolph Gratton from the NMA said there had been a "huge rallying round from the community".
"Being a charity, we just don't have those funds available and once we spend it on something like this we just haven't got it again," he added.
HMS Scylla was bought by the National Marine Aquarium in Plymouth in 2004 with £200,000 provided by the South West Regional Development Agency.
The former Royal Navy frigate was sunk in Whitsand Bay in 2004 to create the reef, which is home to more than 250 species of marine life.