Mystery donor for A21 road widening scheme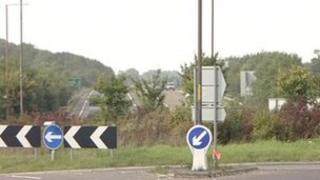 A mystery benefactor has offered "a seven-figure sum" towards the cost of widening a route between London, Kent and the East Sussex coast.
Plans to widen the A21 between Tonbridge and Pembury were first put forward in 1984.
The government is poised to allocate funds to a small number of schemes.
A report by Tonbridge and Malling Borough Council said the existing A21 "seriously undermines growth and regeneration in Kent and East Sussex".
The report also said: "A local has offered a seven-figure contribution subject to delivery of the scheme."
Mike Penning, the roads minister, said: "We are currently considering the allocation of development funds for schemes identified for future delivery.
"This would see investment in a small number of proposals, to progress their pre-construction work."
Traders on the North Farm Industrial Estate in Tunbridge Wells have been calling for action to ease traffic congestion around the A21 since December 2010, amid fears that customers are being driven away.
Kent County Council has said it could deliver the widening project for £70m, about £50m less than the Highways Agency's estimated cost.