Chelmsford's sparkle wins Diamond Jubilee city status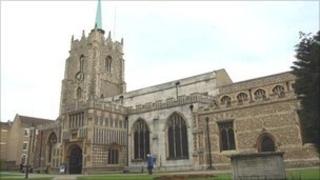 Essex is to have its first city.
Champagne corks popped in Chelmsford as the county town achieved city status to celebrate the Queen's Diamond Jubilee.
It came as something of a surprise to people in the county town and even to those who had put the bid forward but it was universally welcomed.
"This is fantastic for Chelmsford, the council put in a first class bid," effused Simon Burns, Conservative MP for the town.
And yes, it is still a town... The Queen formally confers the title in due course.
It was third time lucky for Chelmsford: "We've been here on a number of occasions over the last 25 years."
"What's so good about today is that it's ended in success," said Mr Burns.
"It has always seemed odd to me that Essex is the second largest county in the UK but it's never had a single city."
Well, now it has.
Losers disappointed
You could almost hear the gnashing of teeth in nearby Southend and Colchester, both of whom missed out.
Deputy Prime Minister, Nick Clegg, even made mention of Sir Bob Russell's disappointment, which was evident in the Commons.
The Colchester MP told us: "God moves in mysterious ways and so does this place. I find the decision quite astonishing.
"I'd like to know what criteria they were using.
"Colchester is the only Roman city that's not received city status. Colchester is the premier borough in Essex and I don't think anyone can argue with that."
Except, of course, the MPs for Chelmsford... Mr John Whittingdale clearly enjoyed eliciting congratulations at Prime Minister's Questions.
Winners and losers
Chelmsford was joined by Perth and St Asaph.
The trio beat off competition from 22 other entries across the UK, including bookies' favourite, Reading.
As well as beating its Essex rivals Chelmsford also put bids from Corby, Milton Keynes and Luton to the sword, much to the dismay of Labour's MP for Luton North, Gavin Shuker.
"I'm really disappointed," he said.
"It's a real blow for us because we had so much momentum and energy around our campaign and I hope we won't lose that."
While, Andrew Geary, the Conservative Leader of Milton Keynes Council complained: "This won't change anything - we already regard ourselves as a city.
"And there's a saying that if it looks like a duck and sounds like a duck it probably is a duck."
The Cabinet Office says it will not say how it reached its decision about how to award city status and won't therefore say why the winners won while others lost out.
Perhaps they better keep their heads down for now.