London 2012: 7/7 survivor Martine Wright may have Paralympic place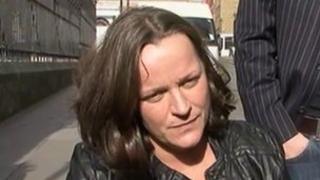 A woman who lost both legs in the London bombings on 7 July 2005 may compete in the 2012 Paralympic Games.
Martine Wright's sitting volleyball team has qualified for the Games, meaning the British team will, for the first time, compete in all sports.
Eleven members of the 14-strong squad will be selected to play at the Games.
Ms Wright, from Tring, Hertfordshire, was one of the last people to be pulled from the wreckage of the Tube train at Aldgate, in 2005.
She said becoming an elite sportswoman in the aftermath was hard to believe.
The 39-year-old lost three-quarters of her blood before being rescued by off-duty police officer Elizabeth Kenworthy.
She then had to undergo major operations for nine months, before learning to walk again at Queen Mary's Hospital in Roehampton.
Talking to ITV News on Wednesday, she said she had been one of the "lucky ones".
"If you'd said to me 10 years ago: 'Martine, by the way, you're going to become an elite sportswoman who is going to maybe take part in the pinnacle of all events, you know the Olympics, the Paralympics', I would have told you that you were absolutely mad," she said.
"I was a real lucky one. It was awful to be part of that awful day but I was lucky because I survived to be able to create new dreams from something so negative."
A spokeswoman for British Volleyball said that Ms Wright was a founder member of the GB women's volleyball squad.
Team selection would take place later in the spring, she added.