Dealer lied about 4x4 'used in Julian Gardner killing'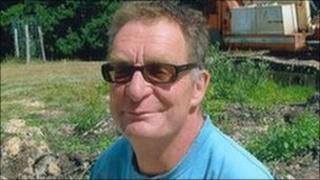 A car dealer caught on camera in a 4x4 vehicle linked to the killing of a man lied to police because he was frightened, a court heard.
Terrence Bristow failed to admit he had been in the Jeep Cherokee and changed its tail-light before it was suspected of being used in the killing.
Julian Gardner was crushed to death at his East Sussex farm in October 2010, jurors have heard.
Mr Bristow, 41, of Great Chart, Kent, and five other men deny manslaughter.
Mr Bristow conceded he had travelled in the Cherokee after CCTV showed him with it at the M20 services in Kent and at the Dartford Crossing around 24 hours before the killing.
He told Lewes Crown Court he had lied to detectives because he was scared.
"I didn't tell the truth because...it was a murder investigation. It frightened me," he said.
Mr Bristow said he felt he could not be frank with police because of previous run-ins with them.
Interrupted gang
"I wanted (to tell the truth) at the time but what with everything I have gone through with the police, I never said that," he added.
Prosecutors allege Mr Bristow, along with the five other men, was involved in Mr Gardner's death.
Jurors have been told Mr Gardner, 53, was killed after interrupting a gang of professional burglars as they ransacked Bush Barn Farm, near Robertsbridge.
He was woken by the noise of the intruders and set off to protect his property just after midnight while armed with one of his shotguns.
However, he was crushed between a Jeep Cherokee and his own Land Rover, or one of the vehicles and a water bowser.
DNA on crowbar
Under cross-examination, Mr Bristow said he had never been to Bush Barn Farm.
"I have nothing to do with this. I have never been there in my life."
Mr Bristow's DNA was found on a crowbar in Mr Gardner's workshop.
In his interview, Bristow suggested his DNA could have been planted at the farm in a "stitch-up" by police, drug dealers or aggrieved family members.
But in court on Friday he said he now believed his DNA could have transferred on to the crowbar because he had been inside the Jeep.
The six men accused of manslaughter and conspiracy to commit burglary and pervert the course of justice are:
Terrence Bristow, 41, of Chart Road, Great Chart, Ashford
Marcus Bristow, 32, of Mock Lane, Great Chart, Ashford
Lee Delay, 23, of Whitegate Close, Tunbridge Wells
Christopher Leek, 30, of Pear Tree Close, Cranbrook
Paul Dunn, 33, of Fryth Crescent, Cranbrook
Oliver Payne, 26, of Sandhurst Road, Tunbridge Wells
A seventh man, Terrence Dunn, 57, of Tanyards Estate, Sandhurst, Tunbridge Wells, is accused of conspiracy to pervert the course of justice.
The trial continues.