Devon and Cornwall Police staff to undergo job evaluation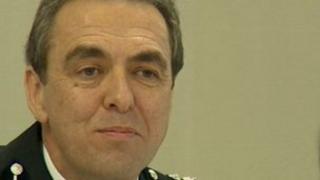 Police staff in Devon and Cornwall are to take part in a force-wide job evaluation scheme.
Temporary Chief Constable Shaun Sawyer announced the scheme while admitting morale in the force was "in a difficult place".
He said pay efficiency and the job grading system would be evaluated.
The last job evaluation scheme took place seven years go. It resulted in protests, walkouts and the resignation of Chief Constable Maria Wallis.
Mr Sawyer said: "The people who work for Devon and Cornwall Police have the right to a fair and efficient pay and grading system."
In 2005, Mrs Wallis took responsibility for a pay review which meant hundreds of civilian workers faced losing up to £8,000 from their salaries.
The force later backed down after a series of protests by staff outside police headquarters in Exeter, but it eventually contributed to her retirement in 2006 after the authority said it had lost confidence in her management.
Stuart Roden, regional organiser from Unison, which represents force civilian staff, said: "We welcome equality-proved pay systems and in the general sense we support the evaluation.
"But given the sensitivities of last time we would want to be working closely with the employer in a more co-ordinated approach and in partnership with them."
Mr Sawyer, who took over his temporary role from Stephen Otter earlier this month, said the job evaluation scheme "holds no fear" for him.