London 2012: Devon and Cornwall Police may be 'stretched'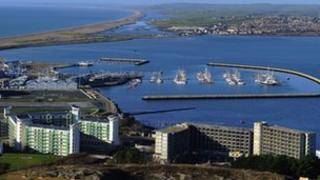 Devon and Cornwall Police has admitted it will be a "stretch" to send nearly 200 police officers to Olympic events.
The number of officers will vary between June and September, peaking at 179 and averaging 65 officers a day to cover events in Dorset and London.
The Police Federation, which represents rank and file officers, said it could have an impact on local services.
Chief Constable Shaun Sawyer said contingencies had been put in place.
He said the deployment had been planned, with some leave cancelled, but the number being deployed was fewer than the number sent to help during the riots in London.
"I'm confident we have the resilience in the force and clearly we have contingencies that if we had a long protracted incident here, we can call on other assets," the chief constable added.
Federation spokesman Nigel Rabbitts said while he accepted the Olympics and the Queen's Diamond Jubilee presented "challenges for policing", deploying officers from the Devon and Cornwall force would leave gaps.
"We're yet to see how the plans will be formulated to fill those gaps," he said.