London 2012: Olympic legacy fund for sports pitches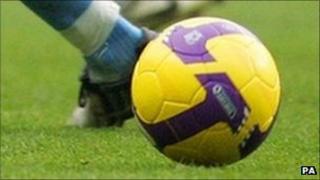 A Staffordshire junior football team without a home ground is one of 13 projects in the West Midlands to share a £530,000 Olympic legacy windfall.
Eccleshall Eagles, who currently play across eight rented sites, have been awarded £50,000 from Sport England.
The Protecting Playing Fields fund aims to bring disused pitches back into use and create new sports fields.
The money will help the Eagles buy a permanent home, with enough land for three full-sized football pitches.
Jeremy Pert, from the club, said: "We've only been going as a club since 2001.
"So I think what Sport England could see was that here was a club that was growing and had a desperate need for additional facilities."
The team's new home is expected to be ready for the 2013/14 football season.
"Not quite in time for Olympic year, but it will certainly be a legacy for the Olympics," added Mr Pert.
'Transform pitches'
Sport England said it would help to protect all funded playing fields by placing a legal protection on the sites for a minimum of 25 years.
"These investments will transform the local pitches where many young people have their first experience of sport," said Richard Lewis, who chairs Sport England.
"With all of these playing fields safe from development for at least a generation, communities across the West Midlands can look forward to years of sporting enjoyment."
Minister for Sport and the Olympics Hugh Robertson said: "Protecting and improving playing fields, under Sport England's Protecting Playing Fields fund, is a key part of our 2012 legacy plans.
"This will enable more people to have more opportunity to play sport, leaving a genuine legacy from hosting the Olympic and Paralympic Games."
Other funding offers in the West Midlands region include:
£37,269 to Tamworth Rugby Union Football Club who will use the funding to develop a new training/junior pitch with floodlights.
£50,000 to John Kyrle High School in Herefordshire to level out their uneven rugby/football pitch. The project will also provide improved facilities for rugby and football clubs from the local community.
£20,000 for Oakfield Cricket Club in Warwickshire, which will be used by the club to buy its current home in Long Lawford, Rugby. Under its current lease, the club could be evicted at short notice so this funding secures the club's long-term future.
£20,400 to Alcester Town Football Club to re-grade and improve the surface of two mini-football pitches, which it said was used by 300 children every week.