Another Budget success for East England MP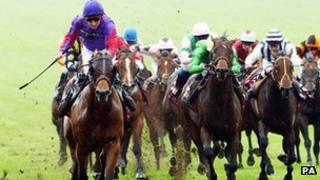 It's not just Ben Gummer who has managed to gain the ear of the government - Matthew Hancock's plans to bring betting onshore also made it into the Budget.
The Conservative MP for West Suffolk, whose constituency includes Newmarket - the home of horse racing - has long campaigned for a change to close the gambling tax loophole.
As reported in November's blog Mr Hancock believes that the will was there to change the location of a bet from where the bookie is based to where the punter is based.
Under new measures announced in the Budget, we hear it will happen.
"I'm delighted," said Mr Hancock.
"It is the measure I was calling for. I want to tackle the offshore problem and create a level playing field."
Mr Hancock has quoted the figure of £62 million in lost betting duties and maintains that of the 20 biggest bookies, only two are domiciled here in the UK.
He believes that it's important the betting competitors pay the chunk of tax and levy they should to help fund the industry on which their business relies.
Fuel fears
If Messrs Hancock and Gummer were high fiving at Mr Osborne's speech many of our other MPs were less than delighted at the lack of progress on fuel.
Hopes of a cut in fuel duty have been dashed.
David Ruffley, Conservative MP for Bury St Edmunds was fuming: "Our fuel duty is the highest of any in Western Europe. People are not stupid. It's time to look at it again.
"Under £2 billion could have cancelled the three pence increase this Autumn. I have constituents who can't afford to fill up their tanks to do their work - ordinary working families.
"It is a necessity not a luxury in our part of the world.
"Rural MPs need to keep lobbying. I spoke to the Prime Minister the other day. He should find the money for motorists and give them a break - at a time of austerity.
Elizabeth Truss, Conservative MP for West Norfolk, agreed:" I was disappointed that there won't be any change on fuel duty. It's a huge issue, the biggest in my postbag.
"I hope that the increase in the personal allowance will help. I will be pressing the Chancellor further on fuel."
So will George Freeman, Conservative MP for Mid Norfolk: "It's disappointing for all of us who have been making the case.
"I understand this government's already set aside £4 billion during this parliament to relieve fuel duty.
"Every penny at the pumps is billions in London but we need to really tackle the unfairness in rural communities dependent on expensive fuel."
At the moment the planned three pence a litre rise - due in August - is to go ahead but if today's rowing back on child benefit changes is anything to go by...
Watch this space.