Budget papers hint at early start for A453 widening project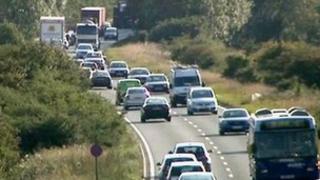 Widening of one of the East Midlands' busiest roads could start three years earlier than originally planned, according to government papers.
Work to turn the A453 between Nottingham and the M1 into a dual carriageway could begin in the summer, Nottinghamshire County Council said.
Clearance work, scheduled for 2015, could begin in the summer, pending approval from the Secretary of State.
The county council said it was hoping for a decision soon.
After hearing the A453 project had been mentioned in background papers from the government's Budget on Wednesday, Nottinghamshire County Council's leader Kay Cutts welcomed the news.
"We are, of course, delighted that work is expected to start soon on this vital piece of infrastructure which will bring huge benefits to the Nottinghamshire economy," she said.
Politicians and business leaders have been calling for Nottinghamshire's A453, which suffers severe congestion, to be improved for a number of years.
Nottinghamshire County Council said the widening project would give a £540m boost to the East Midlands economy.
Improvements to the A453 route, which carries about 32,000 vehicles a day, have been under discussion since the 1970s.