Turner painting of Brighton on show for first time in century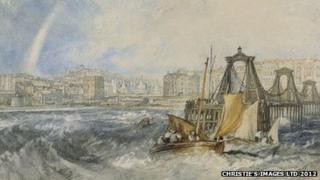 A painting by the artist JMW Turner of the city of Brighton during the 1800s is to go on public display for the first time in a century.
The watercolour, called Brighthelmston, Sussex, was bought by the Royal Pavilion and Brighton Museums service at auction earlier this year.
It depicts Brighton from the sea, along with the newly constructed Chain Pier and the Royal Pavilion.
It will be on view at the Brighton Museum and Art Gallery from 31 March.
The painting was bought thanks to funding from the Heritage Lottery Fund, the Art Fund and the Royal Pavilion and Museums Foundation, with the purpose of saving it for the nation.
Famous seascapes
Turner was renowned for his paintings of the Kent seaside resort of Margate, where he lived as a child and regularly visited as an adult.
Some of his most famous seascapes were inspired by the town, and there is currently an exhibition featuring 95 of his works at its Turner Contemporary gallery.
The watercolour is the only known painting by Turner to feature Brighton's Royal Pavilion.
It was painted after his visit around 1824 and was designed as one of 39 subjects by Turner for the publication Picturesque Views of the Southern Coast of England in 1825.
'Defining image'
Councillor Geoffrey Bowden, of Brighton and Hove City Council, said the painting was regarded "as one of the defining images of Brighton in the 1800s".
"We are thrilled local residents and visitors from this country and across the world will now be able to enjoy it, rather than have it disappear again into a private collection.
"I am certain that it will prove to be a significant cultural attraction in the city's tourist offer."
It will be on show at the Brighton Museum and Art Gallery, in the Royal Pavilion Gardens, from 31 March until 22 April.
It will then go on to be the star attraction of a new exhibition at the Royal Pavilion next year.