Southeastern trains bottom of Which? passenger survey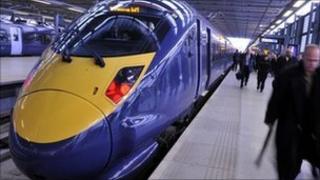 Southeastern trains came last in a customer satisfaction survey of UK rail firms carried out by Which? magazine.
Passengers questioned complained about "overcrowding and high fares" but some praised the high-speed train service.
The firm was given a customer satisfaction score of 40 out of 100. Virgin Trains topped the table with 64.
Southeastern said the results were disappointing but the survey was based on 299 responses and they carried 570,000 people every week day.
The Which? magazine scoreswere based on the overall customer satisfaction of leisure and commuter passengers and the likelihood of them recommending the firm to a friend.
A spokesman for Which? said: "In our survey, many of the positive comments about Southeastern were about its new high-speed trains, although these are only used on a handful of its routes.
"Other respondents mentioned cuts to other services, while overcrowding, high fares in relation to service and cancellations were recurrent themes.
"One [respondent] told us her husband's train is cancelled 'three to four times a week'."
The next least-popular firms were National Express East Anglia and First Capital Connect.
South West Trains and Southern were also near the bottom of the table of 18 rail firms, with scores of 47 and 44 respectively.
'Right direction'
A spokeswoman for Southeastern said: "While we always take all customer feedback onboard, we are obviously disappointed with the survey results, as we've been working hard to make improvements for passengers over the past few years.
"Southeastern carries around 570,000 passengers every week day and more than 80 percent are commuters. This survey is based on 299 passenger responses - 87 of which are commuters.
"In the most recent National Passenger Survey, conducted by the independent watch-dog Passenger Focus and covering a much larger sample-size of, 83 percent of passengers said they were satisfied with Southeastern's train services.
"At a time when we are running more train services than ever before and carrying more passengers, our punctuality figures are at an all time high, over 90%, and we are achieving the best results on this part of the network since punctuality records began.
"We know we have more work to do, but these results show that we are heading in the right direction and we trust our efforts will be reflected in future passenger surveys."