A&E waits for patients in ambulances increase in southern England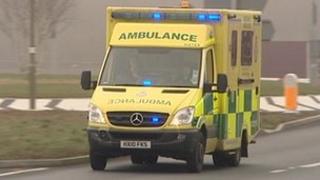 Patients are waiting longer in ambulances at hospital entrances because of hold-ups at A&E departments, it has been claimed.
South Central Ambulance Service (SCAS) said the time crews were kept at hospitals while beds were found for patients had risen by 64% in a year.
It said the "very high" delays meant vehicles could not get back on the road to respond to further calls.
Hospitals say they are working with SCAS to reduce delays.
When hospitals are unable to discharge patients quickly enough to free up beds for new admissions, ambulances crews have to wait and care for the new patients until they can be handed over to hospital staff.
Figures obtained by the BBC using the Freedom of Information Act showed handover delays remained "very high", with 1,794 hours lost at all hospitals in the south of England in February 2012, compared with 1,094 hours in February 2011.
An SCAS report said: "Handover delays remain very high; almost 1,800 hours were lost across all SCAS hospitals, double the time lost in February 2011.
"Service delivery has continued to be hampered since early in February by extremely high levels of call demand and real difficulty in releasing ambulances from hospitals where it has been necessary to transport a patient to emergency departments."
'Exceptionally busy'
The highest number of hours lost at hospitals were at Royal Berkshire in Reading (275 hours), Wexham Park in Slough (174 hours), John Radcliffe in Oxford (328 hours) and Southampton General (432 hours).
The Oxford and Slough hospitals have seen slight falls in their hours from January to February 2012.
Hospitals are required to pay out £2.44 per minute to ambulance trusts for every minute that vehicles have to wait at A&E more than the government target of 15 minutes.
It resulted in more than £176,000 being paid by the Royal Berkshire Hospital in the six months up to September 2011.
The only year-on-year improvement was seen at North Hampshire Hospital in Basingstoke where the total amount of time ambulances were delayed decreased by 16.5%.
The Royal Berkshire Hospital had more delays than any other hospital served by the trust
A hospital spokesman said it had had a 15% increase in seriously ill patients and was working with SCAS to "review the robustness of their data around handover times to ensure that we have an accurate benchmark for the future".
Prof Edward Baker, Medical Director of Oxford University Hospitals NHS Trust, said the emergency departments had been "exceptionally busy" over the winter.
"We continue to work closely with the ambulance service, further improving the ways that we work together to ensure that patients are received, triaged and treated promptly," he said.
Mark Ainsworth, operations director for SCAS, said: "We could have anything from 10 patients in a queue. The delays can be in excess of one hour.
"It's not the best patient experience, but they are in a place of safety and if they do deteriorate, the hospital staff are on hand to administer treatment,
"We're very concerned. We've got finite resources and while they are tied up at hospitals, obviously they can't be answering the next call which could be a life-threatening call.
"So we're very keen to try and solve this problem as quickly as we can."
The trust points to hospitals like the Queen Alexandra in Portsmouth, which has dealt with the backlog by bringing in extra nurses and hospital trolleys and, at times, uses private companies to manage the queues of patients.