Financial adviser fraudsters told to pay back £1 each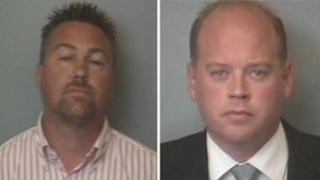 Two financial advisers who conned investors out of £3m in a property scam which they lost gambling have been ordered to pay back just £1 each.
The pair have no money or assets to confiscate, after losing it on online gambling sites, a court has heard.
Andrew Jelley, 38, of Portsmouth, and Joseph Nunn, 43, of Corsham in Wiltshire, are serving six-and-a- half years each for the scam.
Many of the 24 people duped by them lost their homes in the fraud.
The men have been given a Portsmouth Crown Court order which means their future money or assets will be be used to pay the debt.
Promised returns
Hampshire Constabulary's financial investigation unit established the pair blew at least £2m gambling - much of it online.
It is not known where the rest of the cash went and only £80,000 was ever recovered.
They pleaded guilty to conspiracy to defraud in March 2010.
Trading under the name of AJ Corporate Services based in Portsmouth, the men promised returns of 10% to 15% a year for investors using property schemes.
The victims, from across southern England, were told the money would be used to buy properties outright and then let them out to gain the returns.
The first many knew they had been duped by the men was when repossession orders arrived for their heavily remortgaged properties. One homeowner lost £440,000.