Fewer new homes planned for Kent and Sussex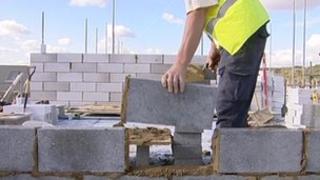 The number of planned new homes in south-east England has dropped by more than 13,000, say council bosses.
Councils in Kent and Sussex confirmed the 13,520 reduction from the target of 645,000 in the South East Plan (SEP).
The drop, revealed byBBC Sunday Politics South East, comes after central government scrapped setting housebuilding targets for councils.
Six councils said they were considering lower targets than those in the SEP, which was cancelled in 2010.
The SEP, which pledged to hit building targets by 2026, was part of a strategy under the previous Labour government to help deal with a growing demand for houses.
The coalition government cancelled the strategy saying councils should have the freedom to make their own decisions.
Of the councils that replied to a BBC survey, Mid-Sussex Council is making the largest reduction, of more than 6,000.
Its new homes target is more than a third lower than that in the SEP.
Garry Wall, leader of Mid-Sussex Council, said: "It's not actually for us to question whether the South East Plan numbers were right or wrong but for Mid Sussex 17,000 was too high.
"We now have a robust needs assessment that we've worked on ourselves which comes to 10,600 and 10,600 is still a high level of housing."
However, Hastings Borough Council leader, Jeremy Birch, said councils should stick to the targets set by the SEP unless there is strong evidence that housing is not needed.
"You've got to think what is your economy need, not in 2012 but in 20 years time," he said.
"How many people do you need living in your area to provide the fodder for the economy?"