Diabetic amputation rate in South West 'very poor'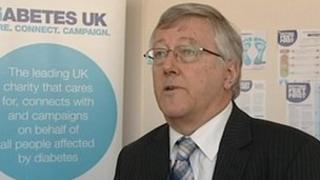 A diabetes charity has condemned the number of amputations on patients in south west England as "very poor".
The amputation rate in England is 2.7 per 1,000 patients, but Somerset and Devon's rates are 4.8 and 4.4.
Diabetes UK said numbers in the south west were "unacceptable" and blamed a "lack of organisation".
NHS trusts said the rates were a "matter of concern" and more was being done to ensure early treatment of problems to avoid amputations.
A study, published in Diabetologia, compared lower-leg amputation rates for local health trusts across England over three years.
It showed that on average 2.7 adults out of a 1,000 diabetes patients had a limb amputated, but this rose to 4.8 in Somerset, 4.6 in Dorset, 4.4 in Devon and 4 in Plymouth.
Cornwall recorded a rate of 3.6 per 1,000 and Torbay's rate was 3.1.
'Unnecessary'
Graham Cooper, from Diabetes UK, said: "It is probably down to a lack of organisation and resources because most of these amputations could be avoided.
"Quite honestly it's unacceptable that 80% of amputations are probably unnecessary.
"We need to know that everybody doing a foot check is qualified and experienced enough to know what they're looking for."
In a statement, NHS Devon, which includes Plymouth and Torbay, said GPs were "working hard" to identify people with diabetes and treat them quickly, and decisions to amputate were "never taken taken lightly".
NHS Somerset said its rate was "a matter of concern" and it had plans to develop, promote and increase access to foot care services.
NHS Dorset said problems were "identified early and treated swiftly".
NHS Cornwall did not provide a statement to the BBC.