Falklands conflict reconstructed on social networks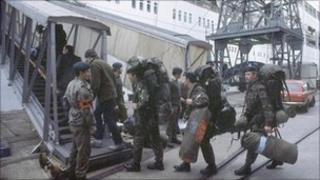 The day-to-day details of the Falklands conflict are being reconstructed 30 years later using social media.
The National Museum of the Royal Navy in Portsmouth is usingFacebookandTwitterto show how the war unfolded.
Experts from the Royal Navy Submarine Museum, the Royal Marines Museum and the Fleet Air Arm Museum are involved.
The timeline will detail the invasion on 2 April, 1982, and include the anniversary of Argentina's surrender, on 14 June.
Bill Sainsbury, marketing manager at the Royal Navy Submarine Museum, said: "Each one of the museums is engaged in telling the story of the last major naval war of the 20th century from our unique perspectives.
"We hope that by coming together and using Facebook and Twitter on a day-by-day basis that we can bring this account alive as it happened 30 years ago."
The timeline is set to continue until 25 June.