RNLI Redcar's new Leicester-fund lifeboat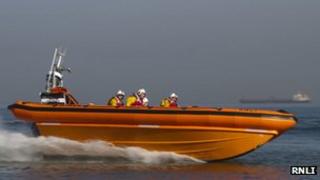 A new 27ft (8.3m) lifeboat costing £180,000 is to enter service in the north east of England.
Based at RNLI Redcar, the Atlantic 85 lifeboat has been paid for in part by the people of Leicester.
Called Leicester Challenge III, it replaces Redcar's Atlantic 75 lifeboat, Leicester Challenge II.
Redcar RNLI Lifeboat Operations Manager, Dave Cammish said everyone at the station was delighted with their new lifeboat.
"Leicester Challenge II has served us extremely well for more than a decade but we are looking forward to having the additional capability that the updated Atlantic 85 brings," he said.
"The crew have already put her through her paces and have been impressed with the extra speed and new kit like radar, which will help them carry out their role more safely and effectively than ever before."
The new arrival continues the link between the RNLI in Redcar and Leicester, where the charity's supporters have funded 14 lifeboats since 1865.
Leicester Challenge II has been stationed at Redcar for 11 years.
She has launched 304 times and rescued 248 people.
The first lifeboat to be stationed at Redcar arrived in October 1802.