German Gorbuntsov shooting: Russian authorities help Met Police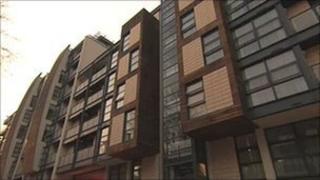 Russian authorities are taking part in the inquiry into the suspected assassination attempt on Russian banker German Gorbuntsov.
Mr Gorbuntsov is in a critical but stable condition after being shot several times near his flat near Canary Wharf at about 19:30 GMT on 20 March.
The Metropolitan Police has now confirmed it is receiving help from Russian authorities.
Met detectives also said they had found a weapon, said to be a pistol.
'Unexpected violence'
Mr Gorbuntsov is under armed guard in hospital.
On Thursday his wife, Lorissa Gorbuntsov, released a statement saying: "This is a very emotional and complicated time for us.
"I would like to thank everyone who is currently helping and supporting us."
She appealed for anyone with information about the attempted murder to come forward, adding: "This is an act of pure unexpected violence.
"Please come forward so that justice can prevail."
'Not gang related'
Police are trying to trace a Hackney cab driver who dropped Mr Gorbuntsov off at his exclusive block of flats shortly before he was attacked.
The alleged assassin is described as white, 6ft tall and slim.
A Met spokesman said: "The shooting is not thought to be gang-related or linked to any other incidents in Tower Hamlets.
"Officers retain an open mind regarding the motive for the attack at this time."
Amendment 29 March 2012: This story has been amended to make clear the Metropolitan Police officers investigating the shooting have been in contact with Russian authorities rather than Russian police officers.