Yorkshire Water warns children 'ignoring reservoir dangers'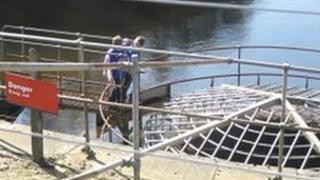 A child will die in a Yorkshire reservoir if youngsters continue to ignore danger signs, a water company has warned.
Yorkshire Water said there had been four incidents in which wardens had stopped people from entering reservoirs since the warm weather began.
Matt Thompson, of the firm, said incidents had happened at sites across North, South and West Yorkshire.
"These are just the sites we are aware of," said Mr Thompson.
Mr Thompson said it was mostly children and teenagers who "diced with death" by ignoring danger signs at places like Swinsty and Fewston reservoirs in North Yorkshire, Langsett in South Yorkshire and Eccup in West Yorkshire.
"It's often the temperature which is the most significant factor in fatalities," Mr Thompson said.
"All reservoirs are 15 or 16 metres deep at their deepest point, which is a lot deeper than rivers.
"This makes them very cold and the temperature rarely rises above 12 degrees.
"It really doesn't matter how well you can swim, the cold paralyses your muscles and the victim is unable to stay afloat. If help doesn't arrive within seconds, they will drown."