Green Party leader calls for thriving green economy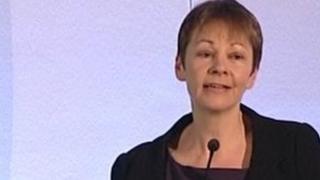 Green Party leader Caroline Lucas says the government has misread the public mood by trying to sideline green issues.
Ms Lucas, MP for Brighton Pavilion, says the decision to allow more building in the countryside and Chancellor George Osborne's claim that it is not important to meet carbon reduction targets are "tragic" and a "travesty of truth".
"The government has completely misread the public mood on this," she said. "Look at the outcry over the attempt to sell off the forests which forced an embarrassing U-turn and look at the fiasco over the new planning regulations. People are worried about what will happen to their countryside."
She was speaking in Norwich where she launched her party's local election campaign. "We are a party of principle," she said. "You can trust us not just on the environment but also social issues and the economy."
Green Party members will be talking a lot about their economic policy over the next few weeks. Ms Lucas believes that at a time of austerity her party has an attractive message.
"The way of dealing with the deficit is not to throw out of work 500,000 public sector workers. The way to do it is to keep people in work to ensure their taxes are going into the revenue and not paying for redundancies and welfare."
"Austerity isn't working. Investing in green measures and green technology is actually good for the economy because a green economy is an incredibly labour intensive economy. Insulating every home would be a fantastic job creation programme."
The Greens will once again have high hopes of doing well on Norwich City Council where they are the main opposition and could take control with two more seats.
Ms Lucas says she doesn't get depressed about the slow rate of progress but "impatient".
"We will take off when more people listen and hear what we're saying and see Green councillors in action. Once we get people elected in any locality, people see that Greens are trustworthy and deliver on their promises - it's about getting over that credibility barrier."