Elvis fancy dress robber Martin Reilly given life sentence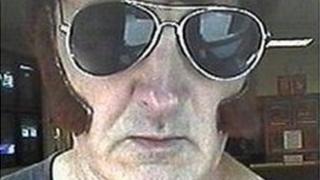 An armed robber who admitted raiding a string of bookmakers in fancy dress disguises, including an Elvis Presley outfit, has been jailed for life.
Martin Reilly, 53, of Northamptonshire, was told he would serve a minimum of 12 years for the robberies which he carried out across England.
Brighton Crown Court heard the raids, which started in Kettering in June 2011, netted him £20,000.
Judge Paul Tain told Reilly the raids had "immensely frightened" his victims.
At a hearing in February Reilly admitted seven armed robberies, one attempted armed robbery and seven counts of possession of a firearm, although he denied two of the raids he was accused carrying out, including the one in Kettering.
The court was told Reilly, who was out on licence after being released from a previous life sentence in 2005, locked his victims in toilets, kitchens and storerooms before stealing thousands of pounds in cash.
'Mental anguish'
The judge said Reilly's guilty pleas had saved his victims from having to "recite the information they are no doubt reliving in their post-traumatic stress disorder state".
Amanda Kelly, prosecuting, said many were suffering from anxiety as a result of the raids.
She added: "Although none of the victims of these robberies suffered any physical injury, all of them suffered mental anguish and some of them are still suffering the psychological effects today.
"Several of them report ongoing anxiety and sleep difficulties as a result of these offences and virtually all of them say that their daily working lives have been gravely affected by what they experienced."
Police accused Reilly of raiding 11 bookmakers across Northamptonshire, Sussex, Hampshire, Surrey, Bedfordshire and Essex.
He admitted 15 of the 20 charges he faced but denied carrying out raids in Kettering on 13 June, Bedford on 17 June and an attempted robbery in Eastbourne on 17 July.
The charges Reilly denied are to remain on his file.
Speaking after sentencing, Det Insp Ian Still, of Sussex Police, said: "Reilly lived a life of crime and was a prolific offender.
"He showed no regard for any of the staff in the betting shops, who were all threatened with a weapon before being robbed."